This recipe makes a beautiful meal of familiar and exotic flavors. Don't skip the aioli, it is so darn tasty and really adds a unique flavor to the dish. It also helps to cool down the heat of these spicy chorizo sausages.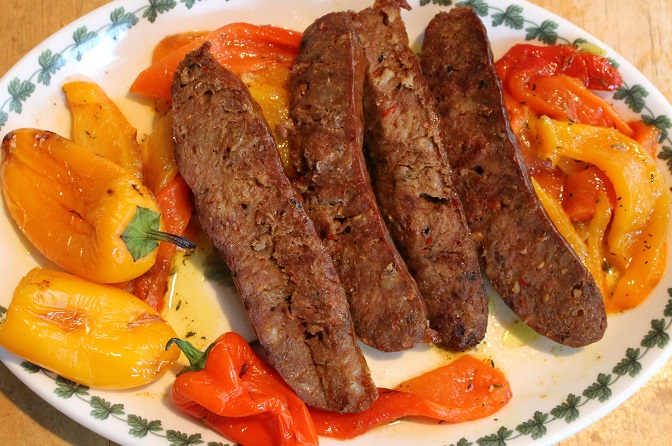 Ingredients
1 pound Coastal Caliente Smoked Chorizo
1 large red bell pepper
1 large yellow bell pepper
Vinaigrette ingredients
1 clove finely chopped garlic
1 tsp dried thyme leaves
3 1/2 TBS olive oil
3 1/2 TBS White wine vinegar
salt & pepper to taste
Aioli ingredients
2 garlic cloves, minced
1/8 tsp kosher salt
2 medium egg yolks
2 tsp fresh lemon juice
1 tsp Dijon mustard
1/4 cup extra-virgin olive oil
3/4 cup vegetable oil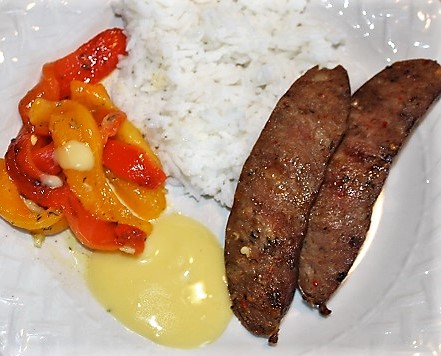 Directions
Heat the grill to medium-high and place the peppers directly onto the grill and char them all around. Once nicely charred turn off the flame to a section of your grill creating an indirect heat cooking zone. Transfer the peppers to the indirect heat zone and cook with the lid closed for about 20 minutes. Now is a good time to make the vinaigrette and the aioli.
The peppers are ready to be removed from the grill when they begin to collapse. Once removed from the grill, place the peppers in a heat-proof bowl and cover with plastic wrap while they are still hot leaving them to steam for 15 minutes, or until cool enough to handle. Once cooled, slip the skins off both peppers, remove seeds then slice the peppers. Marinate the sliced peppers in the vinaigrette for 15 minutes.
To make the aioli, crush the minced garlic with the back of a spoon then blend it with the salt until you have a paste-like mixture. You can also use a mortar and pestle for this process. Add the egg yolks, lemon juice and dijon mustard and mix well. Pour in the oils slowly while whisking to emulsify resulting in a creamy mixture.
Cut the chorizo sausages in half length wise, place on the grill on direct heat and cook until they are heated through, about 5-8 minutes.
Remove the grilled sausage and place on top of the marinated and drained peppers. Serve with rice and the aioli on the side.
(Chef's note: grill additional peppers because they are so super tasty!)