What to serve for Christmas dinner is a question that perplexes those tasked with hosting such an important holiday dinner. If you're bored with beef, tired of turkey or have had it with ham, consider this festive and elegant pork tenderloin recipe. Crisp apples, fresh sage, maple syrup, apple jelly, crispy bacon and succulent pork loin create a main course that is visually stunning and exceptionally tasty.
Ingredients:
2 large cloves garlic, minced
1 tablespoon minced fresh sage
1/2 teaspoon salt
1 teaspoon extra virgin olive oil
1 1 1/2-pound pork tenderloin
1 pound bacon
2 apples, peeled, cored, and thinly sliced
1 1/2 cups apple juice
1/4 cup apple jelly
1/4 cup maple syrup
2 tablespoons Dijon mustard
Instructions:
1. Combine garlic, sage, salt, and olive oil in a small bowl. Rub mixture over all sides of the pork tenderloin.
2. Place a 14-inch piece of plastic wrap on a large cutting board. Place 8 14-inch strands of kitchen twine 1 inch apart on the plastic wrap. The twine should be perpendicular with your body. Place bacon strips in an overlapping fashion on top of kitchen twine.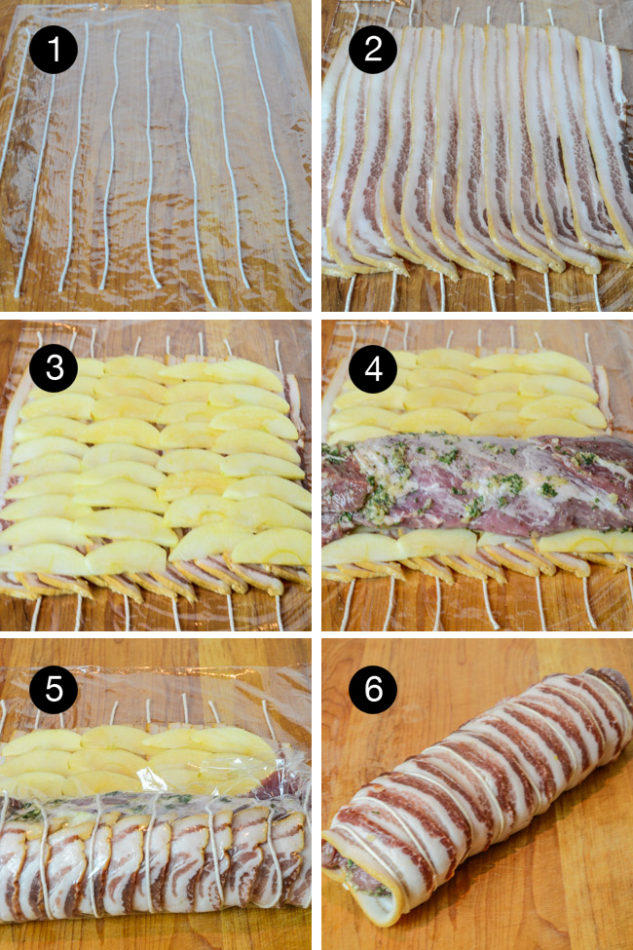 3. Place apple slices in rows on bacon. Place tenderloin on the apples slices closest to you. Fold the thin end of the tenderloin over on itself to create even thickness.
4. Using the plastic wrap, begin rolling the bacon and apple around the tenderloin. Roll as tightly as possible. When you complete the roll, pull the ends of the twine from within the roll and tie to the loose ends. You might benefit from someone holding the roll while you tie the first couple of pieces of twine. You can use toothpicks in a pinch, but the twine method is preferred and makes a tighter roll.
5. Bring apple juice to a boil in a small sauce pan. Lower heat and continue simmering until juice has reduced by half. Add apple jelly and continue simmering until completely melted. Remove from heat and whisk in maple syrup and mustard. Set aside.
6. Preheat oven to 450 degrees F. Place the wrapped tenderloin on a rack in a foil lined baking pan(use a lower rack, and check on the bacon about 10 minutes in and reduce heat earlier if the bacon is getting too dark). Cook for 15 minutes then turn the oven down to 350 degrees F and roast for 30-45 additional minutes. Begin basting the roast after the first 30 minutes in the oven, then every 15 minutes thereafter and a final time when you remove the roast. The roast is done when a knife poked into the center releases clear to slightly pink juices. Let rest for 10 minutes. Slice and serve.