Posted by Mrs. Ziffel on Dec 5th 2019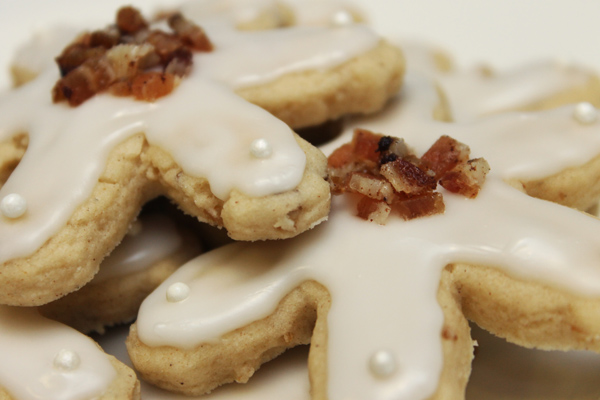 INGREDIENTS:
1½ cup butter, softened
2 cups white sugar
4 eggs
1 tsp bourbon vanilla extract
5 cups all-purpose flour
2 tsps baking powder
1 tsp salt
2 tsp cinnamon
1 tsp nutmeg
4-6 slices of Apple Cinnamon Bacon, cooked, finely chopped.
COOKING DIRECTIONS:

1. Cook Your Bacon by laying bacon strips on a foil-lined baking pan. Place in the oven, then turn oven on at 400 degrees F. Cook for 17-20 minutes. Drain grease from bacon, chop, and set aside.
TIP: You'll want to keep an eye on your bacon as the sugar on your bacon can burn if it cooks for too long. You can cut the bacon into similarly sized pieces so they cook more evenly and remove pieces as they become ready leaving larger or meatier sections to cook longer.
2. Mix Your Dough: In a large bowl, cream together butter and sugar until smooth. Beat in eggs and vanilla. Stir in the flour, baking powder, salt, cinnamon, nutmeg and bacon. Cover, and chill dough for at least one hour.
3. Preheat oven to 400 degrees F for baking the cookies. Roll out chilled dough on floured surface ¼ to ½ inch thick. Cut into shapes with any cookie cutter. Place cookies 1 inch apart on ungreased cookie sheets.
4. Bake 6 to 8 minutes in preheated oven. Cool completely.
5. Decorate Your Cookies with royal icing, some chopped bacon, nonpareil or whatever your heart desires. The good thing about these cookies is that they taste wonderful now matter how you decorate them! Go hog wild!